Yesterday I posted a very long-winded post about using a $50 Knitpicks gift card. Well that post took me a while to write. Long enough in fact that I placed the order last Friday, the 20th, and well my package was delivered on Wednesday the 25th! Ok, so I suppose its not just that my blog writing and posting is slow but also that Knitpicks is super fast - hooray for that.
Here is my box off happiness:
Thanks to the holiday generosity of my Aunt and Uncle it cost me $1.13. That rocks. The split ring stitch markers there were a $2 addition that got me the free shipping. And really one can never have enough stitch markers, right?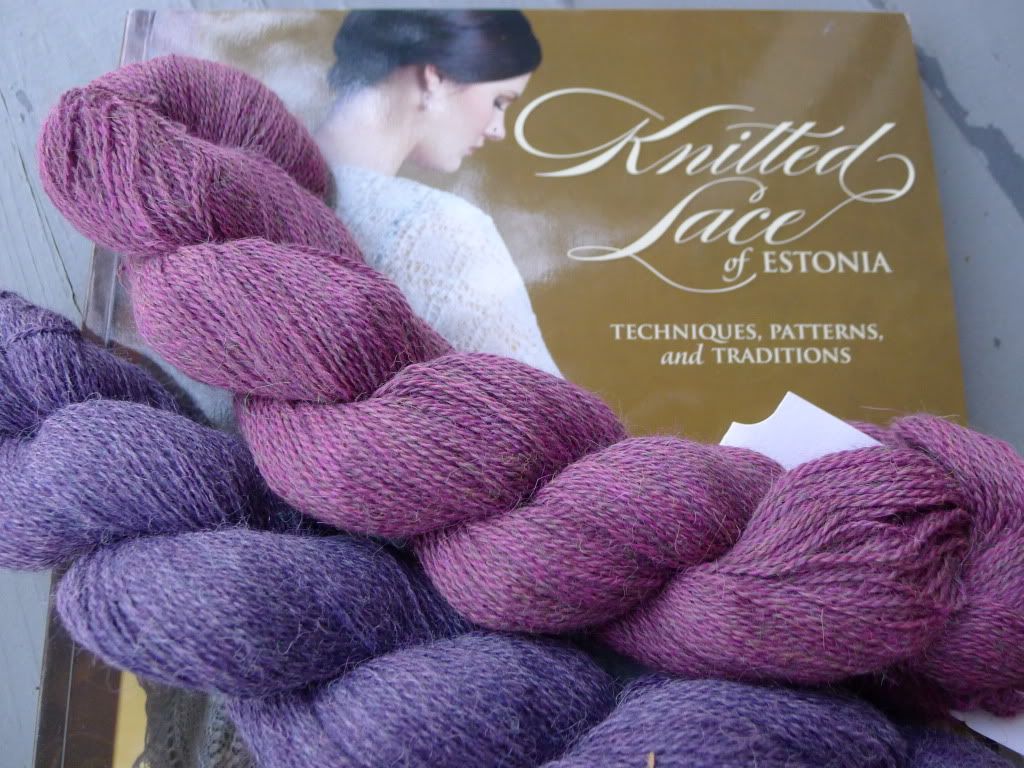 This book and skeins are destined to be Christmas presents for next year. I am all kinds of ahead of schedule...it's pretty doubtful that the trend will continue. I spent a bit of time paging through the book and read most of the intro. I am way more excited than I even realized I would be. The history that Nancy Bush includes has just completely drawn me in and makes me so much more excited for the patterns and techniques. And now I'm even second guessing my original pattern choice. There is a good possibility that I'll choose two different patterns. But then I would have to decide who gets what and well how on earth could I manage to decide? Maybe I'll gift them but say they should share :-)
And well the yarn of course. Oh my is this wonderful yarn. It was hard to capture the colors, but then even in real life colors will change depending on the light. In person they are much darker but still have a beautiful sheen. The alpaca is super amazing soft and lends a very light halo. And holy moly is the stuff thin. I thought that my cone from colourmart was particularly thin, but this Alpaca Cloud is only maybe a hair thicker. It's hard to believe that I'll be able to knit up a whole scarf from skeins that really are quite petite. But that's the magic of lightweight yarn and lace patterns I suppose. I suspect that the hardest part of working with these yarns is going to be not plastering these projects all over the place and spoiling the surprise for my giftees.
Lastly we have my wonderful happy-inducing splurge on self yarn. Yup, it's colorful. But I knew that, what most took me by surprise was how amazing soft this yarn is. I think during the ordering process I was do distracted obsessing about which color(s) to choose that I lost sight of fiber content. Luckily early on in the process I had narrowed in on the 25% alpaca in the Imagination sock yarn. It is soft and squishy and colorful and as such quite wonderful. I immediately (well after the photo-shoot and eating dinner) had to wind one of the skeins into a ball and start working up a little swatch. As I suspected the project is going to be quite super saturated. And the stretches of color are all shorter than might be my ideal, but I am still going to love this project.
And rather off topic, but many many thanks to all who commented and encouraged me
last week
. On a wave of enthusiasm from your input one of my
goals this week
is to finish processing the rest of the fiber to prepare for the marled yarn with Max fiber.
---