Of the things I care about in life fashion/style is pretty far down on the list. My strategy is mostly just to not look too horrible ever. And unless somewhat necessary comfort tends to trump all. However I've been starting to call my jeans and old sweatshirt strategy into question as Bran is stepping up his game and making me look comparatively like quite the slob.
Now I don't want to do anything too crazy and I am still cheap so there's no way I'll be spending much $$ to improve my casual wardrobe. So the logical thing to do I decided was to make myself some comfy sweaters.
Thanks to the magic of Ravelry I fond two super awesome patterns:
Ease by Alicia Plummer
Sweatshirt Sweater by Purl Soho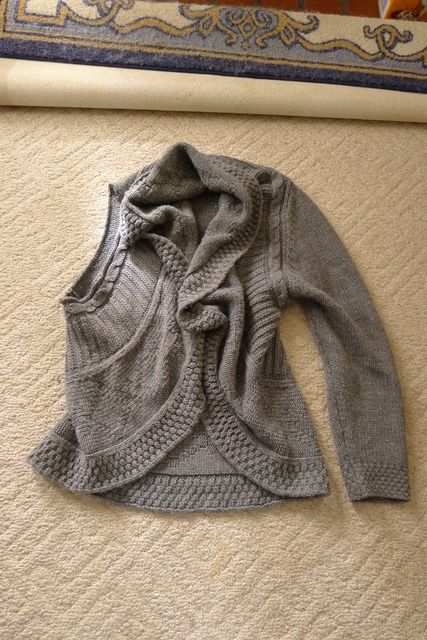 This sweater used to have 2 arms.
Next up was the yarn. Owing to the aforementioned fact that I am cheap I didn't want to buy yarn for this project. When one is talking sweater quantities and especially if you want good yarn it ain't cheap. So it was off to check the thrift stores for sweaters that I could unravel. Trying to do this in the spring when things are finally starting to warm up and sweaters are not so popular was likely a poor decision. But I did find one sweater deemed appropriate.
Now I was doing all of this shopping just before the next round of Nerd Wars was about to start. Now I am getting to be a rather productive crafter (largely thanks to NW) but a sweater in a month is still pretty crazy. Especially when you consider that this round/month I was already planning to finish another lace weight sweater that has been on the needles plus do a bunch of spinning from raw fiber and at least one other NW project. Oh and finish making a whole blanket for my NW Dissertation.
But I decided to be crazy and go for it anyways (I opted for the Purl Soho pattern, it was free and requires less yarn):