So I've pretty much been kicking butt at accomplishing things this week. Check out my
crazy goal list
for the week. It's going well so far and I plan on posting the outcomes late Sunday. At least for the next few weeks when there needs to be crazy crafting production I want to make those goals a weekly blog feature. Accountability and all.
But anyways while I have you my captive audience here I am quite pleased to present the most awesome accomplishment ever (in my biased opinion at least):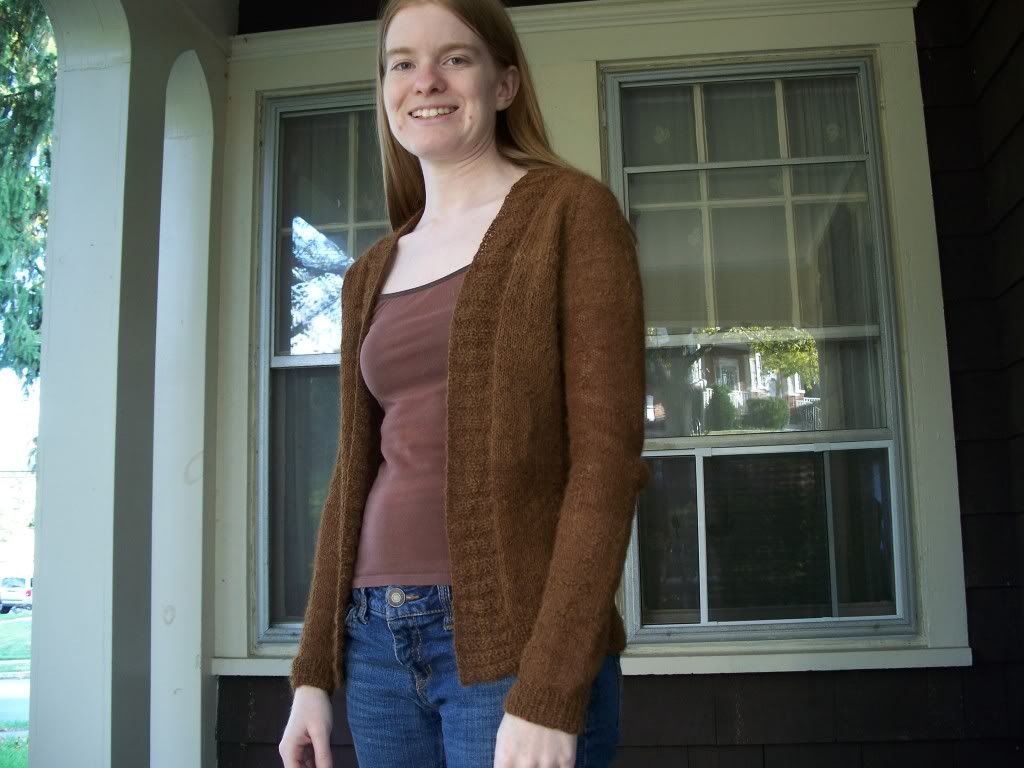 The project began way back in May when I spent my time watching the Giro d'Italia and prepping fiber. I have had big bags of this alpaca for a few years now and never managed to go through terribly much of it. It was what got me started spinning way back when the Mother of one of my High School Friends asked if I could knit her something and if I'd be interested in the fleece. In the quest for a better method of processing I had been investigating creating my own hackle. I wasn't terribly thrilled with the comb approach so modified things in my own way. I use the hair combs to flick batches of the raw locks.
I then take the locks and can load them up onto my homemade hail and random wood plus duct tape hackle and pull myself out a long strip of roving. Roving is definitely my favorite preparation for spinning. I am much better at being consistent when I use it. And the whole hackling, pulling process, results in these amazingly fluffy, need no further drafting strips.
I spent some time testing different spinning styles. One yarn looked absolutely amazing but it has lots of twist so the knitting, which is done on relatively large needles, looked quite wirey. I found that while it was a bit difficult not to drop the spindle all the time or break the yarn I very much enjoyed the fabric created with a rather loosly spun yarn.
Aside from the initial testing all of the spinning was done during the 2011 Tour de France/Fleece. Highlights included spinning in the car, spinning in the car in the dark, spinning more than I've ever spun before, Contador sucking, and Evans rocking.
By the end of the 3 weeks I had a grand total of 1496 (ish) yards. Holy epic. Actually when I add in the bit of other TDF spinning that was accomplished I spun over a mile of yarn. I am still proud of that.
From the get-go I knew the yarns intended object was a Featherweight Cardigan, but immediately after the TDF I was distracted by many other shiny projects and the yarn languished for a while. On August 22 I knew I would have some time while up with family over Labor Day and I cast on. Crazily I had to rob another project of the proper size needles. That project is still quite stagnant, oops.
The knitting itself was incredibly easy and amazing. I would highly recommend this pattern. Some folk might find the giant swaths of stockinette boring but I revel in the simplicity and love having a project that I can take and knit anywhere without having to worry about messing up a pattern.
It was odd how when I was knitting the hand spun yarn with its 'irregularities' almost made the stockinette look like there was a pattern going on. After being a bit dismayed in the end I decided it added to the character of the piece. But actually know that it's all knit up you don't notice it at all. A friend commented last night that it actually looked machine knit even. Although she was at least a few feet away.
The other real quirk of the sweater is that there is a significant color change. Apparently Max, donor alpaca, has some different shades to him. I didn't notice until I had knit probably 2 inches of the new skein, but then suddenly it because quite clear that there is a difference.

I'm too lazy to re-knit anything so I just kept going. Chalk another one up to some extra character.
No matter what in the end I love it and shall definitely be wearing this sweater quite a bit.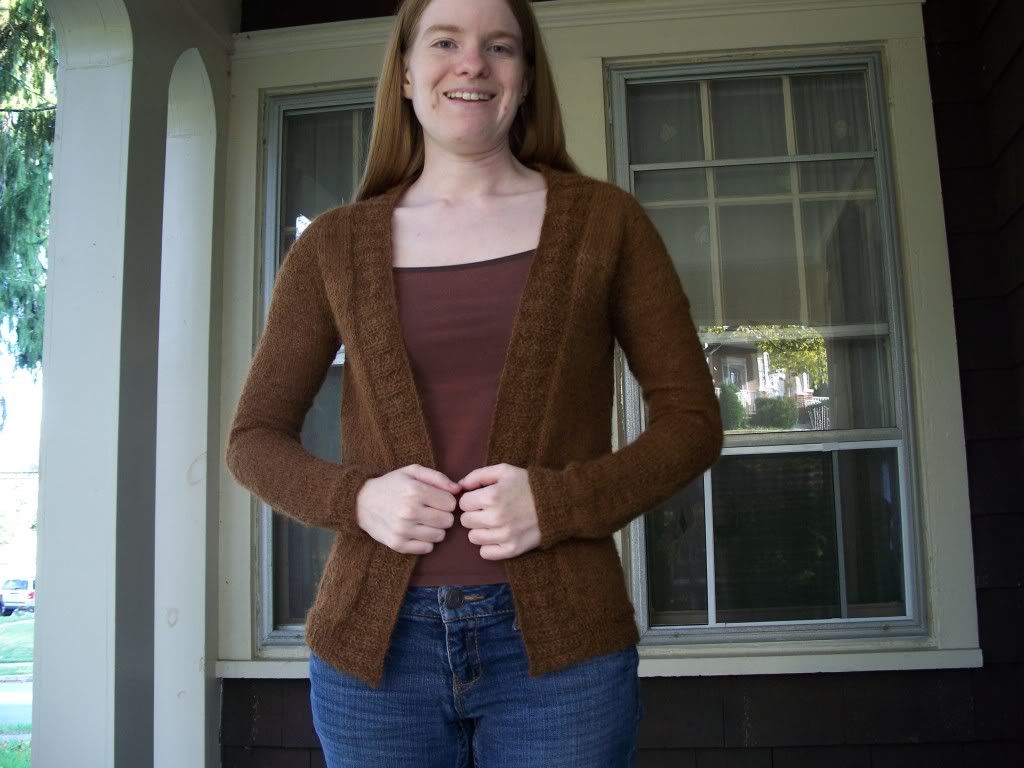 ---
Thanks for visiting! For all of you fiber people visiting I encourage you to check out the
Spinning Trindles Group on Ravelry
where they are currently hosting a giveaway. I purchased my first Trindle in the spring and it was immediate love. Just about everything that I spin these days is done using my Trindle. They are the most awesomest and I'm hoping to write up a post all about them sometime next week.