I wanted to try for the first time to participate in
Fiber Art's Friday's
. And I thought it would be a great opportunity to introduce all of my current Fiber Works in Progress. Well to be more specific it's all of my current WIP's that I am actively, or well generally mostly-sorta-kinda, working on:
Max Sweater:
It was my epic (for me) goal during this years Tour de France/Fleece to spin up enough yarn for a Featherweight Sweater and I was totally successful. I cast on back mid/late August. And the project has ebbed and flowed but last week I finished the body and got this huge surge of must-finish-this-project-ness going on. Last night I cast off the 2nd sleeve and picked up 2/3 of the stitches for the band! I ought to be able to finish before next week. Woohoo!
And I really am loving it all. Being knit top down I've been trying it on since it was time to split off the sleeves. The thing really fits me like a glove. I had it out last night at band and one of my fellow flute members (a casual knitter I think) commented it looked child size. I commented back that it was fitted and had she noticed that I pretty much am child sized. It amused me. I could say more about this project but I think I'll leave it for a full report once it's finished.
Argyle Alpaca Mittens:
Sudden thought: I really ought to call these the Argyle Alpaca Appendage warmers. I really have a thing for alteration. Anyone know of an A word for warmers?
This is the other bit of yarn that was spun up during the TDF. Purchased from Dunn Spun Alpaca's at 2010's Knitters Day Out the stuff is absolutely so amazingly soft and pretty much the best thing ever. It practically spun itself. The knitting of these gloves however is a bit more of a challenge.
Color work is probably one of my lowest knitting skillz levels. Really I've just not done that much of it at all. So I'm doing my darndest to keep the stranding tension even and not too tight. It's also difficult because I really don't do all that much knitting on double pointed needles. I prefer to magic loop. So holding everything even and keeping the stitches has become part of the challenge (or fun when I'm being postive).
We have however had a crazy cold snap here in South Central PA (actually it's become phenomenally nice again, but last weekend was miserable). And the weather makes me quite anxious to get working on these mittens to keep my hands nice and toasty warm.
Ellie & Rosie Spinning: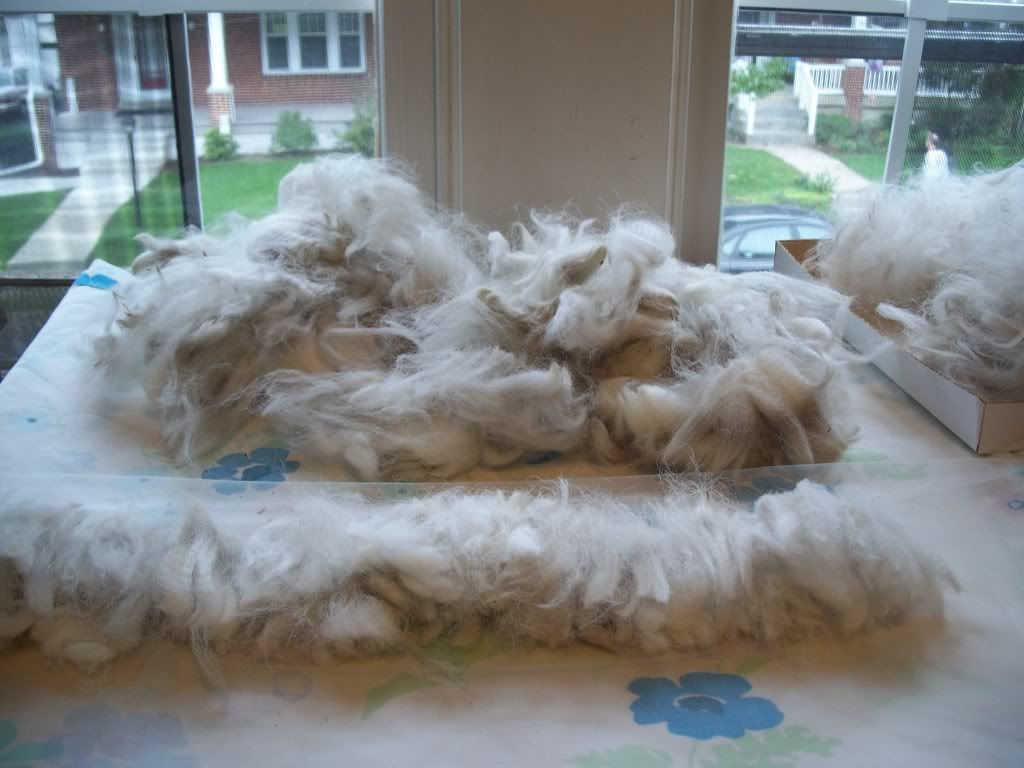 On Ravelry some people have been offering "Spin a bag get bag". The idea being they are likely the owners of some fiber bearing animals who have more fleece than they can keep up with. So they send a willing spinner, like me, fiber. We spin it up and return half of it back.
I was lucky enough to make such an arrangement with Tracey of
Koehlers 4 Star Alpacas
. She sent me 2 bags, 1 lb each, of fiber. Ellie is white and Rosie is rose grey. I absolutely love love love each of the colors.
Alas I must have been crazy when I contacted her about this because seriously I have so many other things that I am working on and so much fiber to spin already. But whenever I'm doing something for anyone else I really do try to bump it up near to the top of the WiP priority list.
I've been carefully sorting and washing the fleece so far. Previously I've just spun all of my raw alpaca dirty. However I recently got up the courage to try washing raw fiber and I absolutely love it. It is certainly not the most speedy process as I am being extra crazy and keep everything in lock formation but I like it this way. The only problem so far is that some of the fiber isn't exactly ideal. I've found a some second cuts, but also patches of corse locks and some just generally quite short bits. I'm not quite sure what to do about it all as I really wanted to return a full pound to Tracy, but I also don't want to stick myself with all of the yucky bits.
So far I've washed prepped and spun up little test samples of each. I had a very easy time spinning Ellie right from the flicked locks but I also tried and was fairly successful and creating a long roving strip using my hackle. After finishing washing about 8 ounces of Ellie I started to spin last night. I seemed to be much more consistent using the roving strip so I think I'll probably prep the rest in that fashion.
Rosie, having all different colors and shades in her fleece offered much more in the way of possibilities. Unfortunately her fleece is also the prime culprit of short pieces. After deciding I wanted to blend her colors I tried the hackle but it wasn't very successful, I suspect the blame could be the short bits. Luckily using hand carders the blending worked rather well.
The plan for this next week is to get the 8 oz of Ellie prepped into roving and keep spinning then get 8oz of Rosie washed.
---
Thanks for visiting and I hope you'll come back and read about more of my goings-on. Be sure and check out
WISDOM BEGINS IN WONDER!
to see more Fiber Arts Friday Blog Amazingness!