Some time ago in the midst of this frigid winter I bemoaned the fact that my kitchen floor was very cold. At the time I do believe my solution was to put on thicker socks or shoes, but I also had the idea: How awesome would it be to make a rag rug?
Very awesome indeed.
Off to the inter webs I went. And as always it did not disappoint. I added a 'pattern' to my ravelry queue and there it existed for a time forlorn but not forgotten.
Then this Monday when I had off on presidents day my knitting/crochet group had a meeting during the day and I realized that we met near the craft stores and near the salvation army store. Coupons were reviewed and a plan was formulated.
First I stopped at the salvation army where I was incredibly excited to find a rather large selection of bed sheets. I picked out 4 sheets using a palate of soft greens and browns, neutral but, hopefully, not boring. The grand total was $12. I love thrift stores. After that I made my way to Michaels where I picked up some jumbo crochet hooks and since I'd printed off a 20% of of your entire order (sales included!) coupon I also stocked up on some yarn for my squares afghan :-)
That night I abandoned other projects on the needles to start tearing up a sheet. Joyfully I discovered that it was incredibly easy to tear the sheet along the cross-grain line. And by stopping before the edge I could have one giant huge strip of fabric. Rolled up the ball was about the size of my head. Rock on.
Still unable to contain my excitement I immediately tried to start crocheting. It took a number of attempts and some experimentation but I finally got something started. Since I didn't want a circle I tried shaping it into an oval, but I ended up going rectangle. I was happy.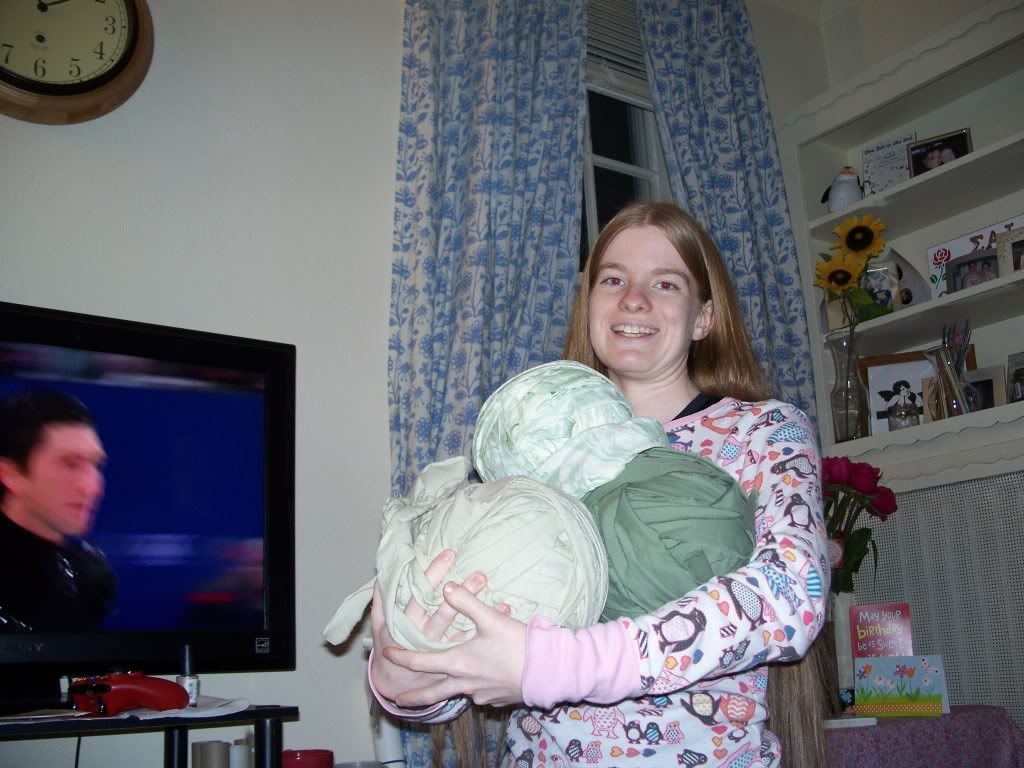 The next day I tore up the other 3 sheets. I, of course, took pictures to document how huge the crazy balls really are. By that point I had decided to reject the rectangle and frogged the previous nights work. Then experimenting more I managed an oval shape!
The sucker is pretty rough to work with. But I tried standing on it so far (12 by 6 inches maybe?) and love it. Given my craft progress recently I anticipate being done before the end of February :-)