A good bit of my weekend time was lost (in large part owing to the fact that my man wouldn't let me knit during the LOTR marathon) but luckily I was able to spend most of Sunday with my various crafts.
The knitting was a necessity. My local knitting meet-up decided to participate in the
knitting of scarves for the Special Olympics
and the deadline is pretty tight. I only just got my yarn on Thursday and me being me, unlike most of the rest of my group, I didn't pick a particularly quick pattern. But I figure if I bang out at least 5 inches each day I'll be good. And given my status as "glued to the TV because she's addicted to the olympics" I may even best my 5 inches each day.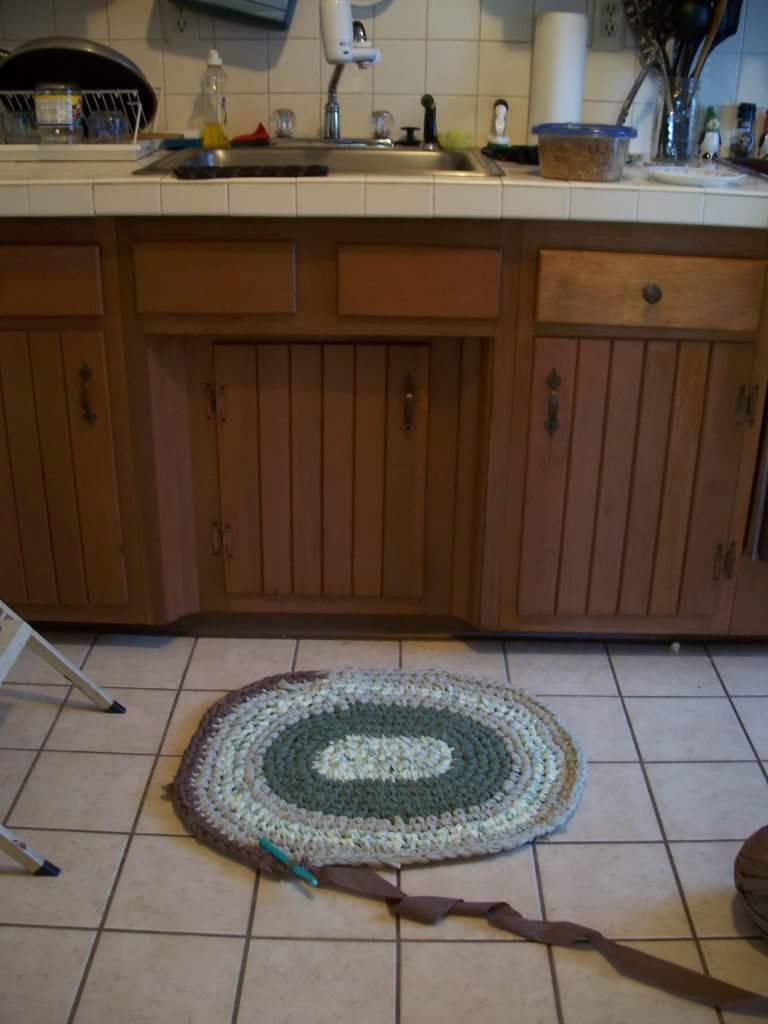 I added 4 rows to my kitchen rug. Before it seemed big in my lap and not so big in the kitchen. It takes approximately forever to get a whole row done, but it's easy work. So now I work on it on the floor while sitting on it, it's big, and it doesn't even look half bad in the kitchen. Yay.
And speaking of craft projects from recycled materials (the rug is from old sheets) I have my eye on another recycled materials project. Stay tuned for that.
It was my intent to add at least another page to my art journal but after painting backgrounds on 2 pages I didn't find quite the inspiration I was looking for to keep going. Although I totally just had an idea for what I should do. (Note to self: simple paint chip mosaic) Backgrounds are totally useful however as now I won't have to wait for paint to dry! Plus having just had that idea I'm good to go whenever I find the time and inspiration again. Also earlier today I totally had the idea of what I would like to put on the cover of the journal. (note to self: favorite quote plus feathers, figure out how to secure feather nicely)
But most excitingly of the weekend I 'finished' (really I could easily add more but it's not necessary) a project that I started in October or November and managed to ignore despite the fact that it is prominently displayed in my apartment. Brilliant. However I'm ridiculously long-winded so this is already long. I think that I shall describe this project as its very own post.