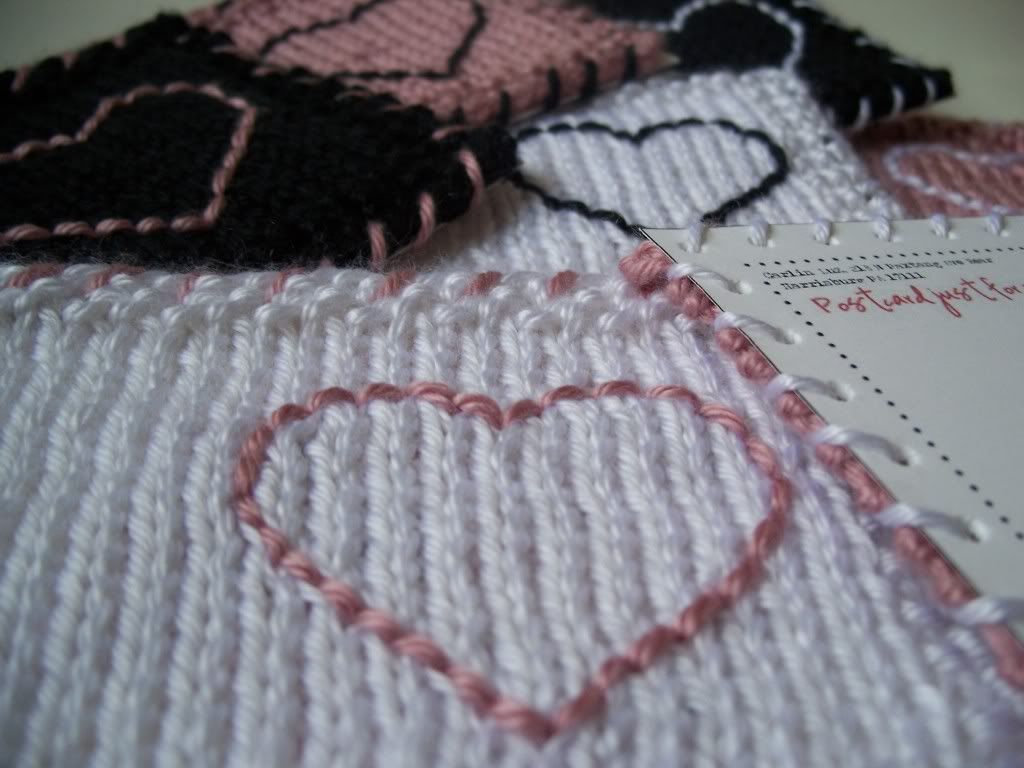 Recently I've been reading more artsy/craftsy blogs. Towards the end of January Alice at Future Girl Craft Blog posted a link to a postcard swap hosted by Hanna. I absolutely loved the idea.
Making and receiving any type of mail is pretty much the most awesome thing ever. I've been known to send the occasional random piece of mail to a friend just because I love it. And actually I have made my own post cards before even! But to do a swap with a group of other serious artsy people....well that was intimidating. I started thinking on what I might be able to put together.
The afore mentioned post cards were simple little things (word clouds) designed using this nifty little tool/website. And I didn't want to use that for an art-type swap. Most of the ideas/suggestions were things like drawing/paining/mosaic/decoupage. All things I can do but I'm really exactly wild about. So I considered what I
have
been doing as of late: yarn-craft. On a whim I googled "knitted post card" and struck gold.
It was a busy day and so it wasn't until late that night when I should have been sleeping that I whipped up my own knitted post card. I took a picture but it was dark and horrible. I slapped like 3 stamps on that sucker and sent it off through the mail to my local friend to test that the thing would actually go through the mail.
Sure enough a few days later she had received the post card and I embarked upon a mission to knit up the things en-masse. I needed 10 for the swap and wanted to make even more as valentines to send to friends. At some point I settled upon making 20 cards. This is possibly in part owing to the fact that I purchased a 'book' of $1 stamps to use for mailing them all and that is of course 20 stamps. I figure the process for each card was somewhere around 2 hours.
I was using pink, white, and black carron simply soft yarn I had left around the house from other projects. After a bit of experimenting I settled upon 23 rows of 27 stitches on size 6 needles. I made a seed stitch border 3 stitches wide around the whole card and left the center a flat knit. Then I used a contrasting color to embroider on a heart. The tricks I learned to stitching on a not so tight knitted fabric are: use a hoop, trace the pattern onto a piece of cloth in the back, and poke the needle through the strands of yarn. The hearts weren't at all perfect but I'll pretend that adds to the hand-made qualities. I spent a bit of time modifying a post card back designed by Hanna which I could then print 3 up on a piece of card stock. I also cut out a second blank piece of card stock to the same size becuase it was relatively flimsy. My modifications included marks around the boarder ever 1/2 inch where I needed to poke holes. To poke the holes I took an old shallow cardboard box and pre-poked in appropriate holes. Then I could take up to 6 layers of card stock and pinned them down in place on top of the box using push pins. Then I poked through each hole with another push pin, then moved up to progressively bigger knitting needles or just using alot of force (and sometimes ripping the paper) with the larger needle. This was easily my least favorite part of the process. Lastly I stretched the knitting over the card and secured it with clothes pins then secured it with my contrasting yarn.
Whew.
I didn't know how I was going to get them all done in time but then mother nature snowed in the whole city and I used the day to finish all of the cards! Stupidly I never got around to taking a picture of all of the finished products, the sheer volume amused me greatly. But here is a picture with all of the color variations.